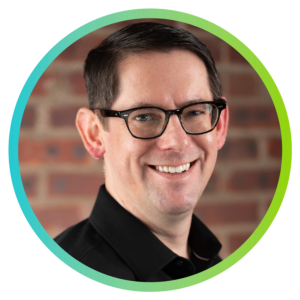 I'm all about helping people be their best…
How nice of you to want to learn more about me! I appreciate that. Here's my story.
Back in 2004, I founded a branding and creative services agency called Imbue Creative. We started as a small graphic design shop for medical communications and pharmaceutical companies with aspirations of growing into a full-service creative agency. In 2019, we will celebrate 15 years of Imbue—and I've got the pleasure of working with a talented and really kind group of creative professionals who help our clients' brands be better every day. We give clients the words, visuals, and strategies they need to build stronger connections with the people they are meant to serve. It's fun stuff, and I'm thankful every day to the people who have helped Imbue grow over the years.
By day I lead the team at Imbue; and in my spare time I like to enjoy live theatre, music of all kinds, new technology, cars (I love to drive), and traveling. One thing I'll admit is that when I have down time, I tend to think a lot about how much good communication means in every aspect of our lives. We have so many tools at our disposal to make communication more efficient, and yet we seem to be less efficient and less human. 
I started this blog because I wanted a personal space where I can share those thoughts with other professionals with the hope that my experiences and observations, along with your feedback and comments, will help people and those they communicate with be more clear, more efficient, and more effective in their work. You see, I'm an educator at my core. I started my career as a high-school teacher, teaching public speaking and theatre arts classes. I've always loved how powerful good performances are, whether in business or in entertainment; and teaching was a great way for me to share this passion with others. I also delighted in helping young people overcome their fears and feel confident communicating with others. I loved the students, but felt I had much more to give than what the confines of the public-school system in the 1990s could provide. So, the month before I was to receive tenure, I left. Everyone said I was a fool to leave the job security and benefits I enjoyed as a teacher. They were wrong; and as hard as it was to leave the students who I adored, I'm glad I didn't listen. (By the way, I still love to teach and train. If you're looking for a good adjunct professor, panelist, or speaker, let's talk.)
Next, I got a job in financial-services marketing. I was totally unqualified, but the woman who hired me took a chance. I remember in my interview she said, "you've got a lot of the skills I need for this position, but you don't have the right experience. But that's okay, I can teach that." She was right, and she taught me a lot. She literally gave me my foundation in the marketing and advertising industry. I'll always be grateful. This was my first taste of how truly good people in business can do amazing things for those they believe in.
After several years in financial-services marketing, I needed a new challenge. Sales support was most of what we did, and I found myself more drawn to the creative side than the sales side. My supervisor at the time, another mentor who influenced who I am today, told me that she saw a leader in me. That statement changed my view of myself. I believed her because I was becoming proud of what I had accomplished in my career so far, because I respected her greatly, and most importantly, because I trusted her. She gave me the push I needed to move on even though she didn't know that meant I would leave her team. Well, maybe she did. 
I then met another wonderful teacher who gave me the opportunity to make the move from financial services sales and marketing into healthcare communications. Healthcare-agency work was fun and fast-paced. I worked alongside highly educated medical professionals, meeting planners, account strategists, writers, designers and developers. I honed my skills as a brand strategist and creative director, and learned a lot about good writing from the agency's stellar editorial group. An invaluable job. I still think back about how lucky I was to work there.
But the entrepreneur in me had been simmering for a few years, and I wanted to see if I had what it took to start and run a business. I was in my early 30s and felt I knew enough about the agency world to start a firm. So I took the leap, and Imbue was born. 
Since then, I've had the pleasure of helping my employees and our clients grow. I also continue to work on my own story, which included achieving a lifelong goal of getting a master's degree in communication. Should I go for the PhD? 
This blog is my personal way of giving back, sharing what I've learned and continue to learn to help people communicate better in today's world. I hope you enjoy it, and that my words help you be your best personal and professional self in some small way. Please do let me know if I'm succeeding or failing—failure is key to improving, and kind words about succeeding always feel great. 
Michael