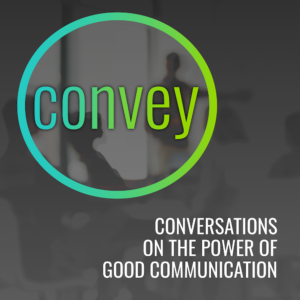 I'm excited to announce the launch of my podcast, Convey: Conversations on the Power of Good Communication.
On each episode, I'm going to talk to business leaders about how they use the power of good, clear, and ethical communication to influence, engage, and empower. Each guest brings their own unique perspective, experiences, and stories — and I hope you enjoy listening to these conversations as much as I enjoy having them with my guests.
I invited my colleague and friend Rod Hughes of Kimball Hughes Public Relations to help my kick things off with a conversation about communicating well during a crisis.
Listen to it here on my website, on Apple Podcasts, Spotify, Anchor.fm or anywhere you subscribe to podcasts.